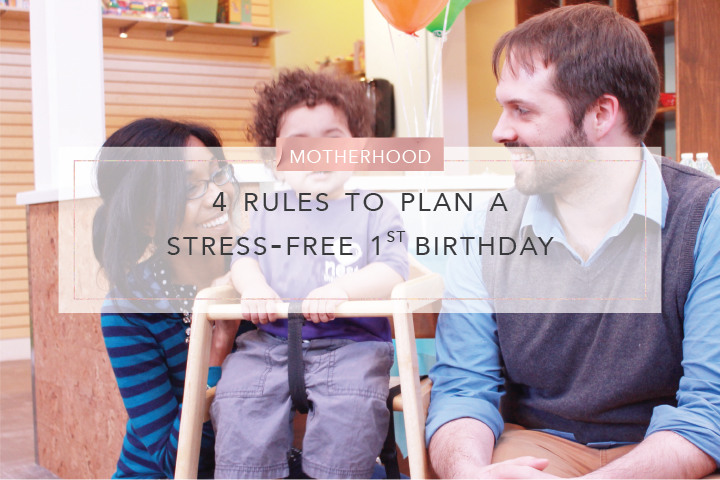 Repeat after me: "Planning the perfect first birthday party DOES NOT HAVE TO BE STRESSFUL!" Say it again!
I know it's hard to believe especially when everything in the world makes you feel the opposite: blogs overflowing with gorgeous 1st birthday photos, parents posting adorable Facebook pics of their parties, the neurosis around having a dream party that would make Martha Stewart swoon, (if she actually swoons.) Well after saying the above a few more times and following these four rules, I managed to have a memorable and unique party for my son, Westley, at NEST Chestnut Hill without losing my mind!
Rule No. 1: Stay Focused On Who This Day Is Really About
To me, it seems a lot of people forget who this special day really is all about – that precious one-year-old-to-be! You know the kid who is just as happy playing with your grocery bags and pots as he is with that expensive toy truck.
The secret to creating the perfect 1st birthday party while operating with a sense of practicality is to keep your eyes on the prize – the genuine happiness of your one-year-old, not filling your Facebook feed or blog with drool-worthy photos of the decorations and food. I mean really? Show me a blog where there are at least 5 photos of the child savoring the expensive food or admiring the whimsical decor. Remember who this day is all about and you'll be able to make practical stress-free decisions.
Rule No. 2: Take Your First Birthday Party Cues From Your Kid
Keeping Rule No. 1 in mind, I stopped worrying about MY vision and just sat back and watched my son. I watched him on his own, with other kids, with his babysitter, and with his family. Three key things jumped out:
This kid does better in smaller, intimate environments
He enjoys playing with animals (we have 2 cats and a ton of stuffed animals)
He really loves his family
These observations are what I used to influence my party planning. The result was a jungle animal themed party with select family and friends! Simple and Westley-focused!
Rule No. 3: Get Organized
All parties operate on the same level: they all need guests, a location, food, decorations and party favors. Sounds simple, but pulling it all together isn't always that easy. Get yourself a checklist! So many sites offer free downloadable checklists. So find one you like and USE IT! I really like the printables from GET BUTTONED UP. Their Birthday Planning Checklist was perfect. I actually ended up customizing it a bit, but all the key pieces are there on the original PDF.
Rule No. 4: Let Your Checklist Be Your Guide, Let Pinterest Be Your Inspiration
Ahh, Pinterest! My friend and my nemesis. Such a beautiful place to indulge, but it can quickly take you away from following Rule No. 1. Use your checklist as your guide map through this process and go to Pinterest when you get stuck. Don't let Pinterest become your guide or you will quickly kiss your money, time and sanity goodbye. (Google Pinterest Fails if you don't believe me.) Use your checklist to identify what party elements require a lot of money and time and what doesn't! For me each element fell into one of four groups:
My Cheapies
Paper plates, forks, knives, spoons, cups, table cloths – anything that I didn't care if it got destroyed or wouldn't make a huge impact on the day. I found these items at a dollar store or on clearance at Target and made sure they matched the colors in my theme.
My Memorable Handcrafted Items
Invitations, party decor, photo booth props and thank you's – Since I design personalized stationery and paper goods, this was easy for me. Along with my party decorations, Etsy is bursting with tons of offerings that allow you to create a custom look. I created jungle animal themed party decorations, personalized with my son's name and photo which made for great keepsakes and garnered awesome compliments! Check them out at PinkimonoPapers!
My Unique DIYs
Party Favors and snacks – I added unique touches to the party by creating personalized party favors. They were "animal" habitats/paper storage boxes made up of 5 finger puppets, all from Ikea, for each child with his or her name. It took a little creativity and some Pinterest inspiration, but they were a hit. (Check out my post on how to make these yourself.) So were the cupcakes my MIL made! Cream cheese icing…Yum!
My Splurges
Location and a Smash Cake – The location was the one thing I knew I couldn't replicate. I knew it would be easier if I hosted this party somewhere other than my home – some place that already had the ambiance, the resources and the staff to make the day perfect. So my husband and I agreed on NEST Chestnut Hill for the location which was incredibly reasonable given their amazing service. For local moms, NEST Chestnut Hill made it really easy to plan Westley's party. They offered exactly what I needed and was well worth the splurge:

The owner, Kara was attentive, responsive and worked with me on sticking to my checklist
The Creative Consultant and staff were friendly and eager to make everything perfect from booking to clean up
Everyone was flexible and allowed me to customize what I wanted so I could stick to my vision and to my budget!

The smash cake was also their idea. It wasn't something I usually would do. The concept is too messy for me, but I knew it was something my son would like. And after all, Rule No. 1 is the priority! So I made sure he had one! And he loved it!
So you can see it is possible to pull off a perfect first birthday party for your one-year old that is adorable and memorable without going crazy (or broke) and makes him or her happy. With these rules and a little creativity you can create a magical day between the dollar store, handcrafted custom elements, unique DIYs and a few justified splurges. Now that you know how to do it, download the Get Buttoned Up Party Printable to get started and for local moms, check out how you can host your party at NEST Chestnut Hill.
Then come back and tell us some of your first birthday party planning tips. Or feel free to ask questions. Leave them in the comments below.
Originally published for NEST Chestnut Hill