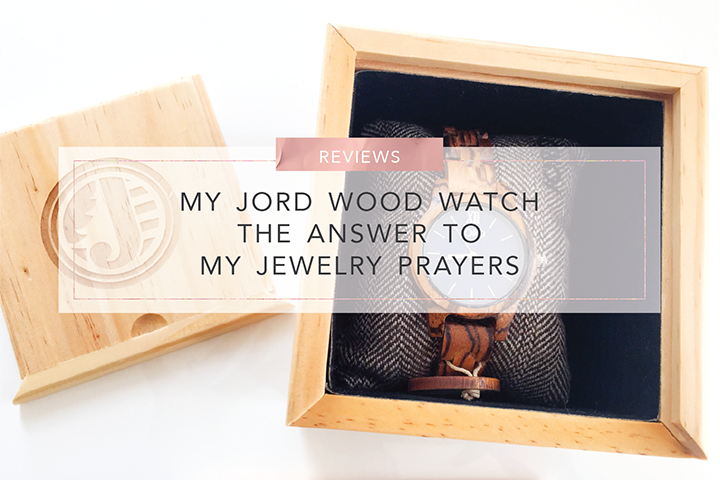 Dear Jewelry Boxes, I know it's been a while. I miss our good times together, finding the perfect pretty necklace to complement my outfit. But it seems like those days are long gone now that the kids are here. I know, I know. We'll be together again, one day.
Okay, so I'm not really sending "I Miss You" notes to my jewelry box. (The kids haven't driven me that crazy yet.) But I do miss playing with the baubles I've collected over the years. With two little munchkins, I like other moms of little ones, can't always wear their favorite accessories. I don't think I've actually worn any of my bracelets or dangly earrings since 2014 because of my grabby hand kids. So when I was recently offered the chance to wear/review a JORD Wood Watch, I was a bit hesitant.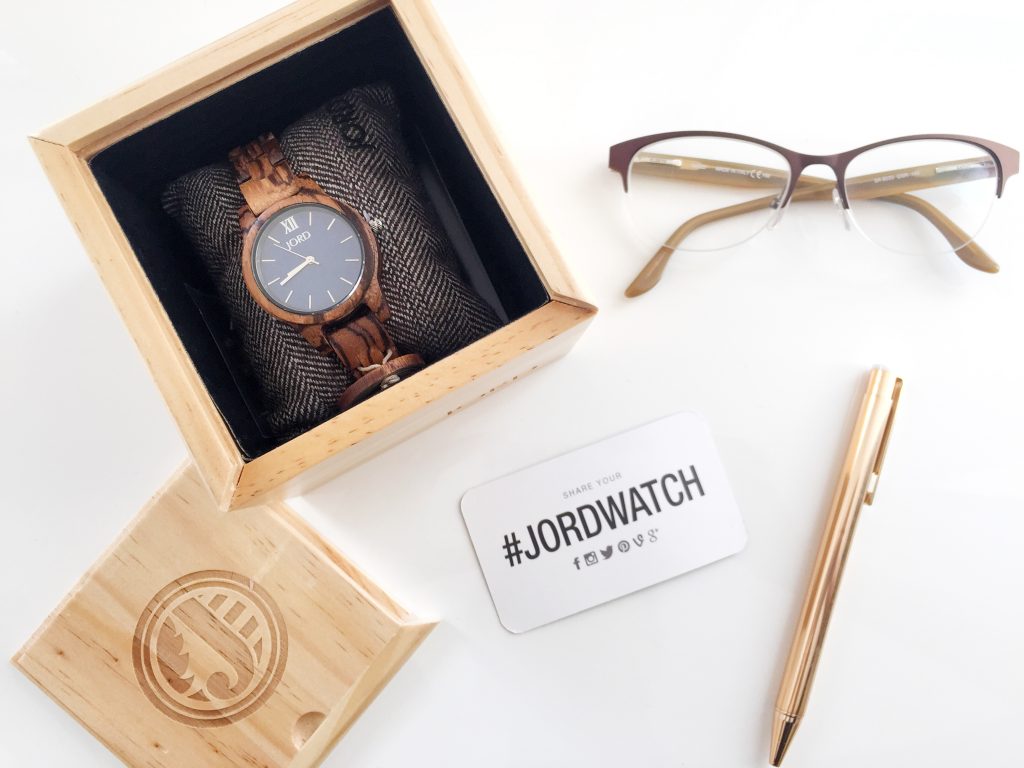 So You Say It's A Watch Made From…Wood?
Yes, my new watch is made from wood. JORD Wood Watches are unique timepieces that are designed with both sustainability and style in mind. Unlike other wood watches, a JORD watch's band and case are completely made from wood.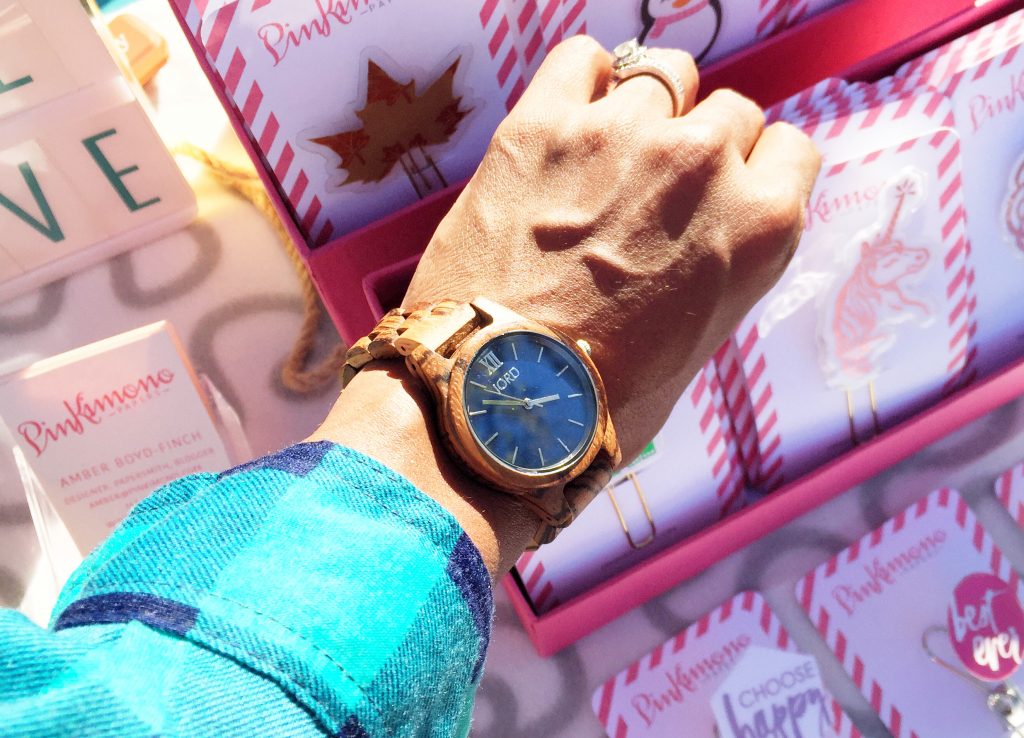 And they are GORGEOUS. If you haven't taken a look at these beauties, then hurry over to their site after reading this post. Both men's and women's watches are available with several lines between the two of them.
The watches are crafted from different types of wood — Ebony, Koa, Purpleheart, Zebrawood, Rosewood, Sandalwood, Maple and Bamboo. There are also different color faces to complement each band. The dome is produced from sapphire glass which is second only to diamond as the hardest and most scratch resistant materials on earth. Overall, you have quite a few options between your wood choice, band and face style and color. My watch is from the Frankie 35 Series and is made from Zebrawood with a navy face.
What I Like About My JORD Wood Watch
1. Durability
I opted for the more feminine watch – a Frankie 35 because I have tiny, tiny wrists. I was concerned though that this watch would be too delicate given the little hands that live in my house.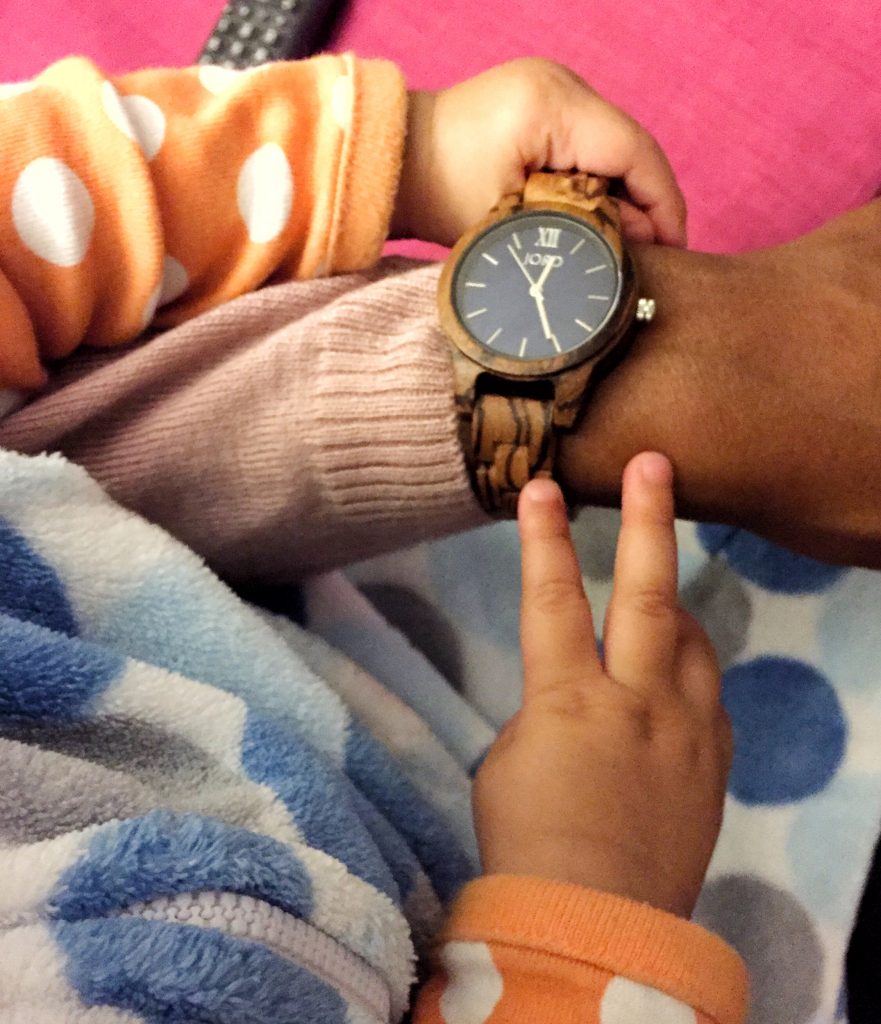 When I received it, I was surprised by how light the watch was given that it's made of wood. Even though it was fairly light, it still felt solid. The links, the face, the clasp, all seemed like they would be able to to endure 4 tiny little hands. And so far it has.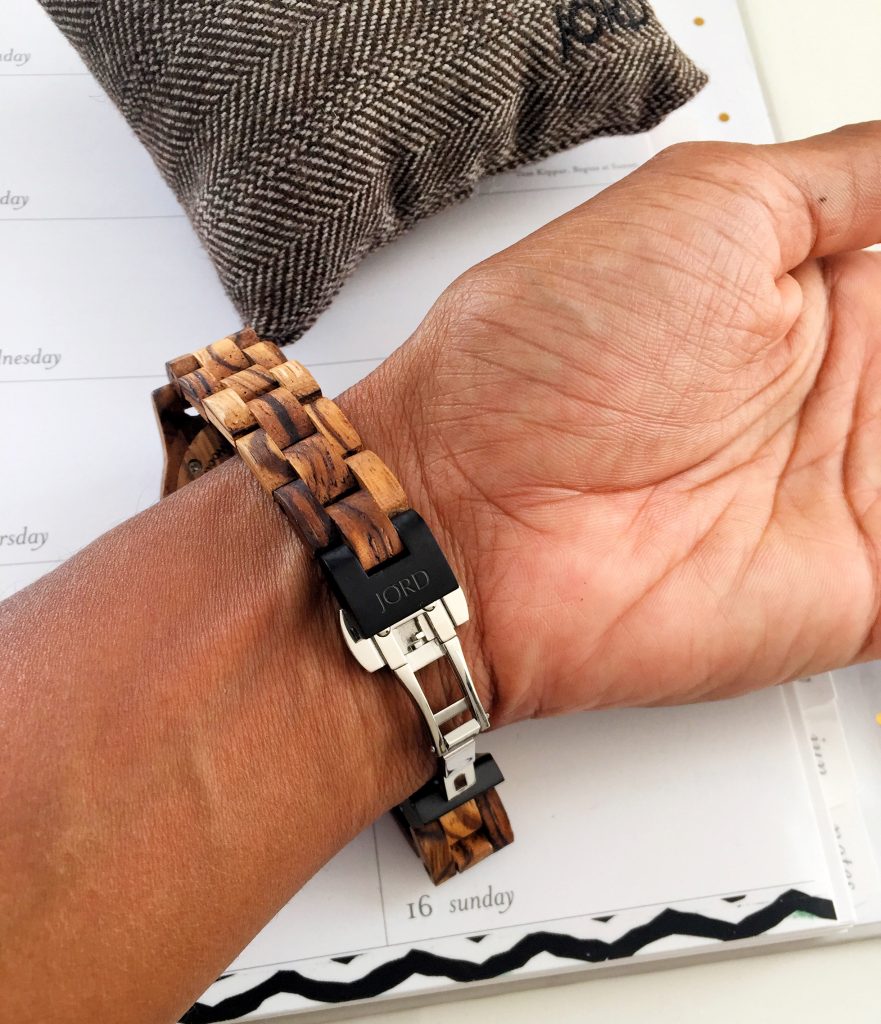 2. The Process
Choosing which watch was the most difficult part of the process. Ordering it online was the easiest part. At first I was concerned about how I was going to get the right fit being that I wasn't making an in-person purchase. JORD took care of that. There's a link on each of their product pages directing you to a PDF with the directions to measure your wrist. I printed out the PDF, measured my wrist and that was it. When I received my watch it fit like a glove.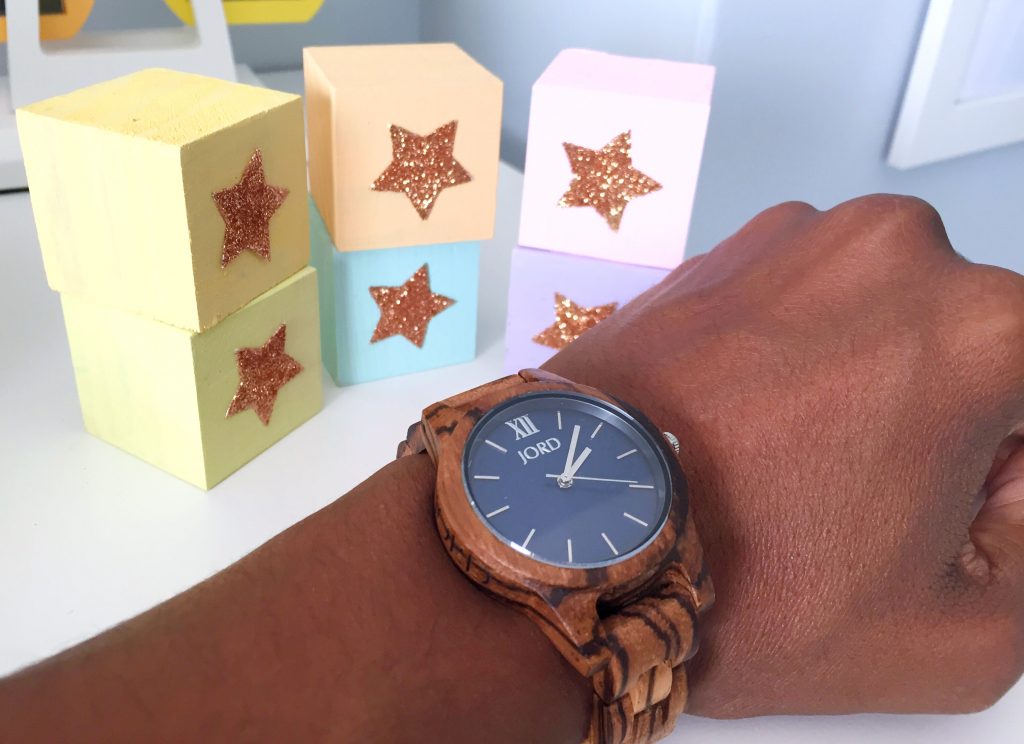 (Hmmm, gloves, watches, it all goes together right?) The watch did come with extra links, but I probably won't need them because the fit was perfect.
3. The Craftsmanship
In addition to the watch being unique and well crafted, the packing is divine. I love the detail that went into the box. It's simple but just decorative enough to fit well with my other jewelry boxes.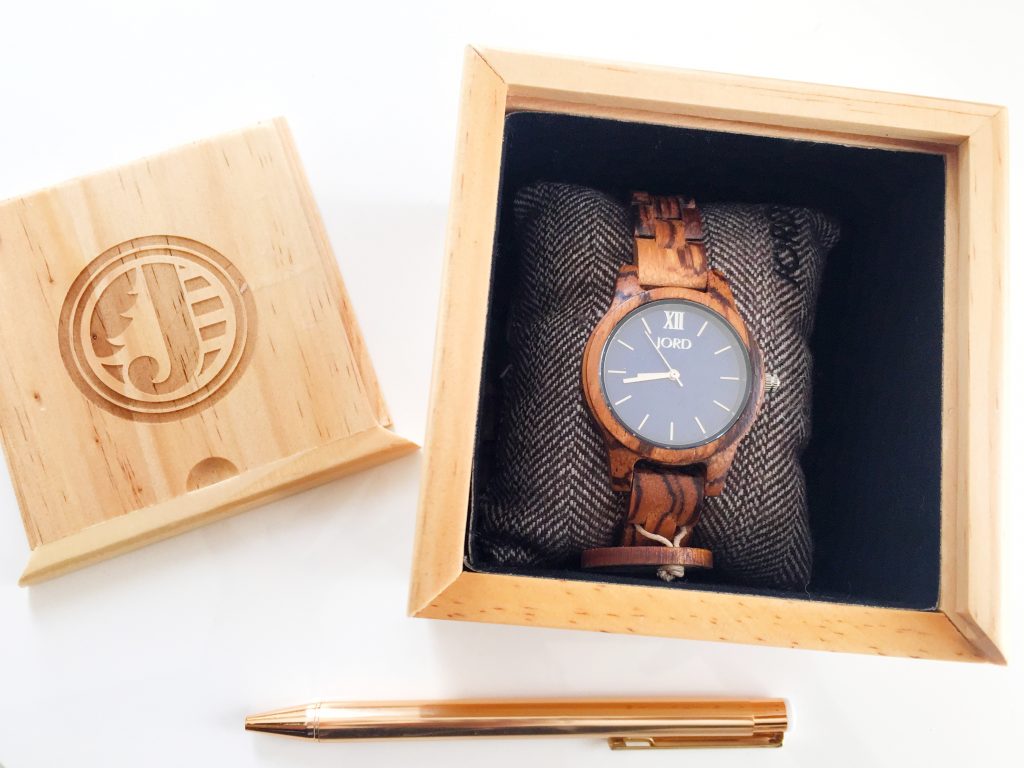 The Downside
I've had my watch for a week, I can safely say I love my watch. It's pretty eye-catching as I've received several compliments on it. The kids haven't torn it apart. Heck if anything, I had to negotiate it's release from my son because he loves it too. (It was all tears and cries of "Watch! Waaatch!" from Westley.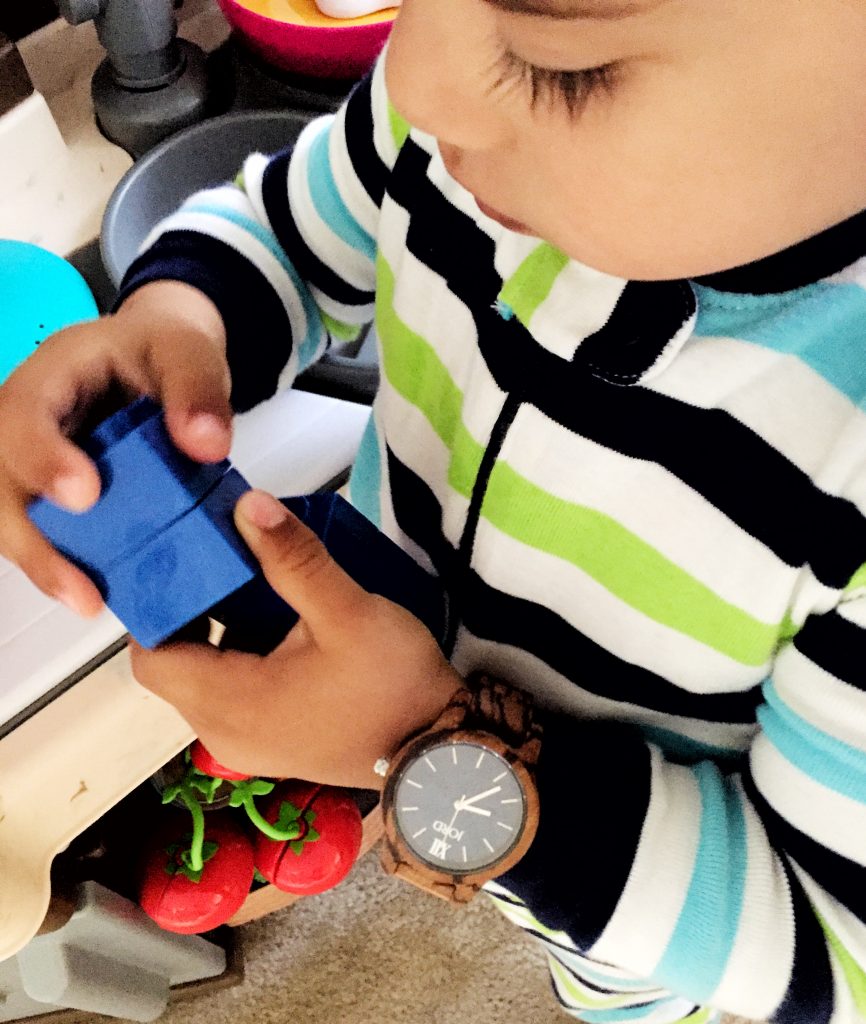 So there isn't too much I can say is problematic about the watch. The only concern I have is maintenance. First, do not get this watch wet. Getting it wet may cause it to crack when it dries. This is a challenge for me given the fact that I have kids so I'm constantly washing my hands. Second, since it's a unique piece of jewelry, you need to clean it differently than my other accessories. To keep the watch in in its original condition, JORD recommends using Tung or Lemon oil.
So aside from maintenance, I'm pretty happy with my watch. (So are my jewelry boxes.) In my world of baby food pouches, sticky fingers and little time, it's nice to have a piece of stunning jewelry that can endure everyday mommyhood craziness.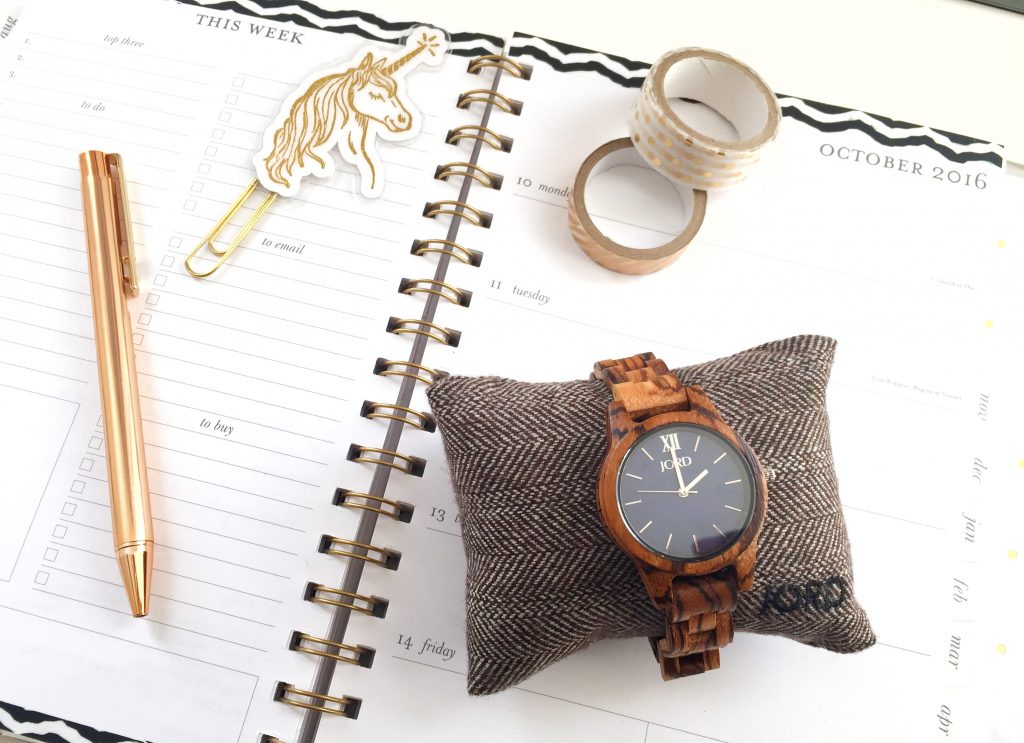 I hope this post will help you if you're in the market for a stylish watch that can standup to tiny tykes. And if you are, I have good news for you. Enter my Wood Watch contest by JORD for a chance to win a $75 coupon to put towards a watch. And bonus, other entries will receive a $20 coupon. (CONTEST CLOSED)
Good luck!