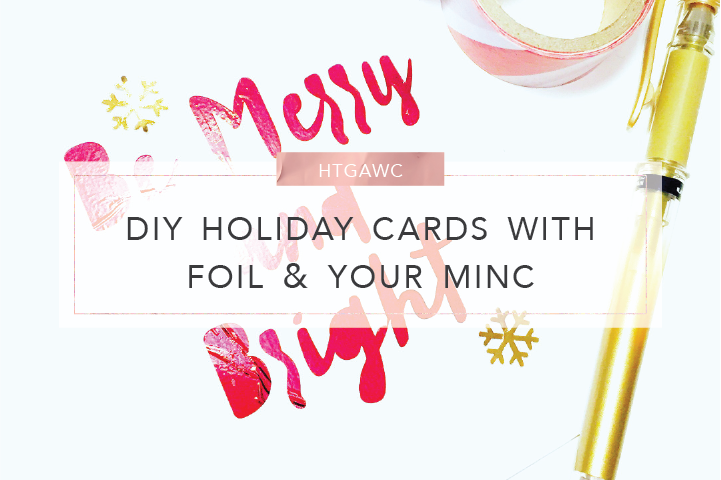 One of my friends on Facebook accepted the #htgawcrafting challenge after reading my tutorial on making DIY Gold Foil Ornaments. In her comments she mentioned that she didn't know what the MINC Foil Applicator was. I explained, but realized not everyone is going to have one of these fabulous machines. (Plus they're a bit pricey.) BUT the foil isn't expensive. (JoAnn's sells it for $9.99 a roll.) So I thought about what project I could do with the foil but not the machine.
Craft Magic hit me. I remembered this post from DamaskLove.com about using the foil on double-sided tape to decorate a pencil cup. That got me thinking that I could do something similar with holiday cards. So for today's htgawcrafting project, I am making DIY Holiday Cards with a Touch Of Foil – sans the machine. Instead, we'll use tape to apply the foil, no heat!
Supplies to Make DIY Holiday Cards with a Touch Of Foil
Steps
Step 1: Open a new document in your Silhouette Studio® software. Adjust your paper settings for 8.5 x 11.
Step 2: Divide your paper into 4 even rectangles – 4.25 x 5.5. These will become your card fronts.
Step 3: Visit the Silhouette store and download any holiday designs you like. Once you download your Silhouette or custom designs, place them on your cards. Size your artwork to your specifications and for each one of your four cards.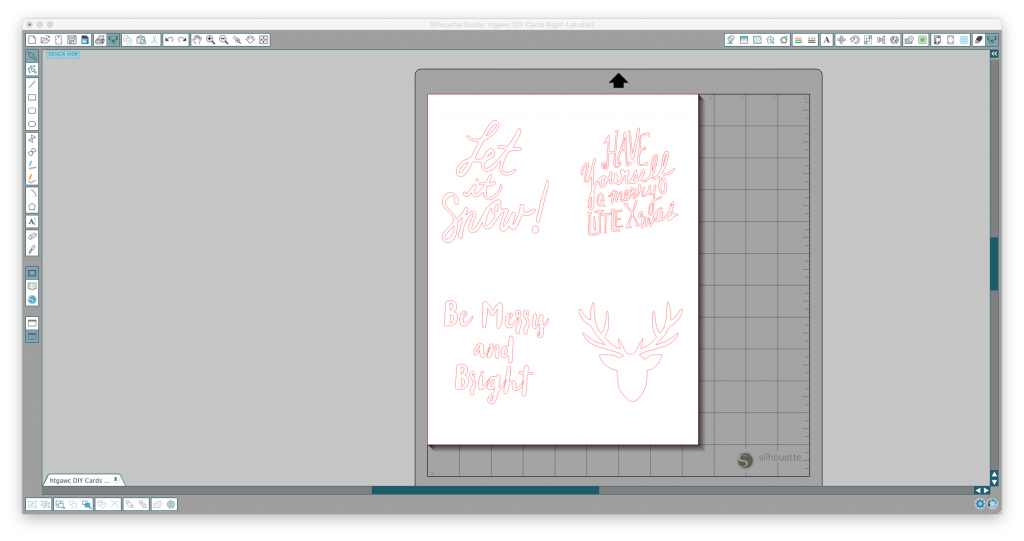 Step 5:  Send your design through your Cameo with the ratchet blade setting at 3 or 4 depending on how sharp your blade is on your cardstock. Remove your cardstock from the mat when you're done.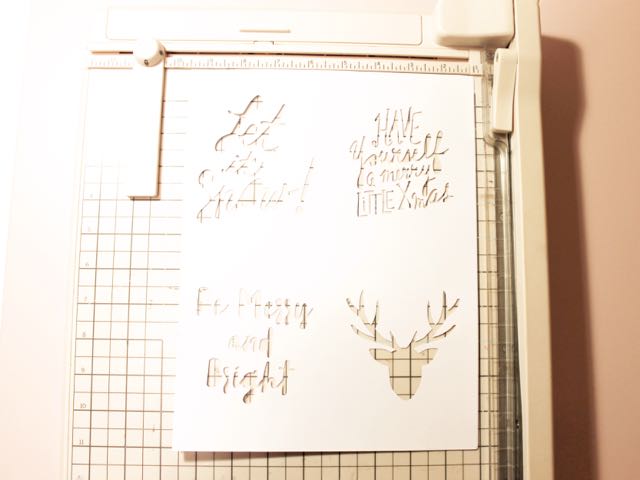 Step 6: Cut your cardstock into 4 cards – 4.25 x 5.5. Also cut a plain piece of cardstock into 4 matching pieces. These will be the cards backs.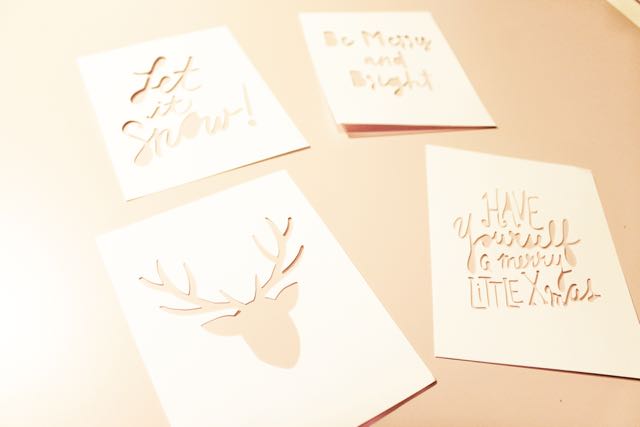 Step 7: Cut four pieces of different color Heidi Swapp MINC Foil to place on the back of your cards. Adhere them with a tape runner. You could also run the card through a sticker maker and then add it to the foil. Trim any extra foil so nothing is hanging over the edges of your cards.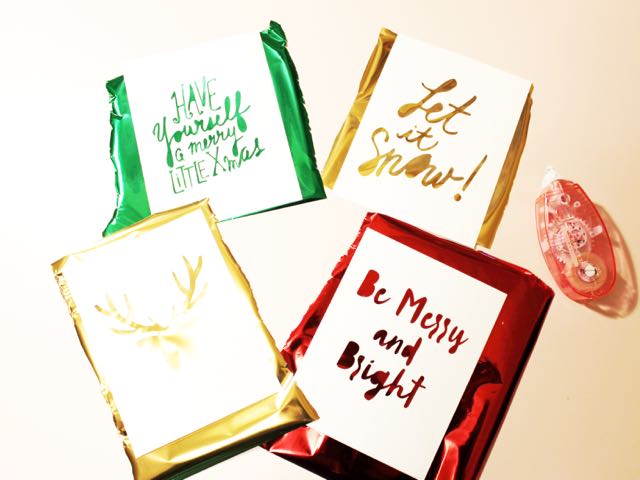 Step 8: Take your card backs and run them through your sticker maker.
Step 9: Line your sticky card backs up to your card fronts. If it's a little misaligned, that's okay, just trim your card so it's even.
Step 10:  Use your Crop-a-Dile to round the corners. I like the 1/2 inch rounder.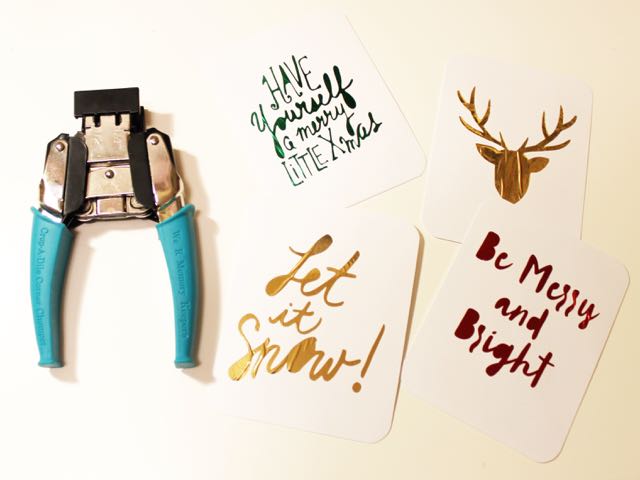 Voila! You have come super cute and simple Holiday cards. Feel free to decorate the fronts and backs of your cards. I used some of my leftover gold foiled snowflakes from my DIY Gold Foil Garland project. I turned them into stickers and added them to the front of the cards.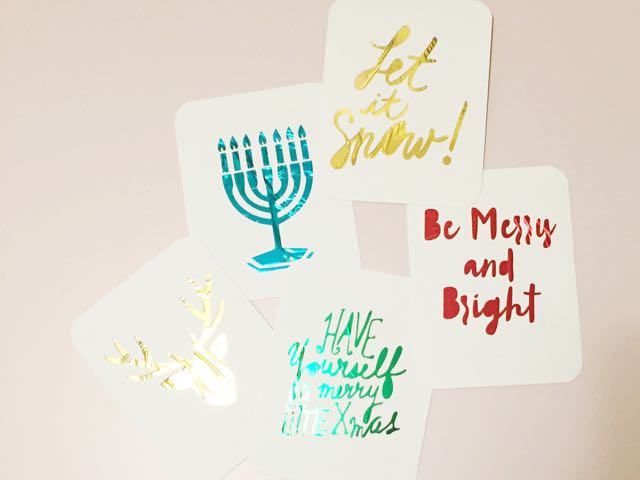 I just love how these holiday cards came out. I think they're perfect to give out at work or even for kids to give out at school! Let me know how you did. Post your photos on Instagram and hashtag it #htgawcrafting! Can't wait to see your cards!
Till tomorrow…