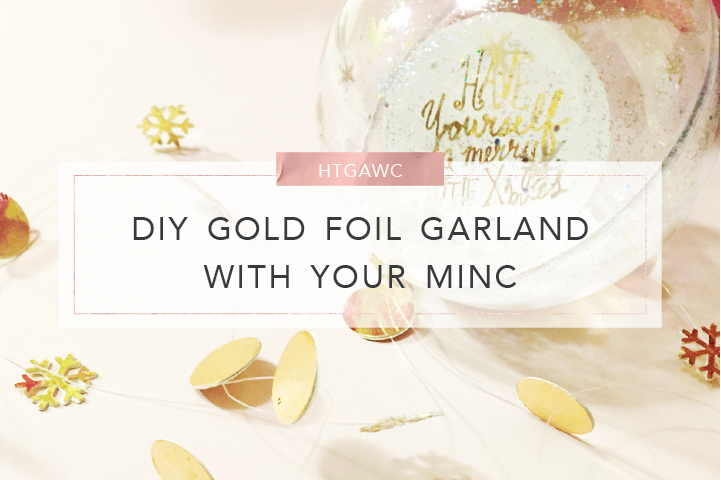 So after completing yesterday's How To Get Away With Crafting challenge, I realized I wasn't done decorating my pink Christmas tree. It needed a little something – garland! Yes, I needed some more sparkle. I mean, can you really EVER have enough sparkle for the holidays?
So for today's 1-hour craft, I'm making my own gold foil snowflake garland. This craft was pretty simple, but also a little frustrating. Because I was creating some garland for a small 12″ tree, everything had to be tiny. I suggest doing this craft for larger trees so you can make larger ornaments. I think they'll be easier to work with, but that's just my 2 cents. Onto the crafting!
Supplies to Make DIY Gold Foil Garland
Steps
Step 1: Choose 2 different colors of the Heidi Swapp MINC foils to foil 2 pieces of the Heidi Swapp MINC toner sheets. I used gold and rose gold and 2 pieces of  5×7 toner sheets. Send your sheets through your MINC Foil Applicator. Once you have your pretty, foiled sheets, place them to the side.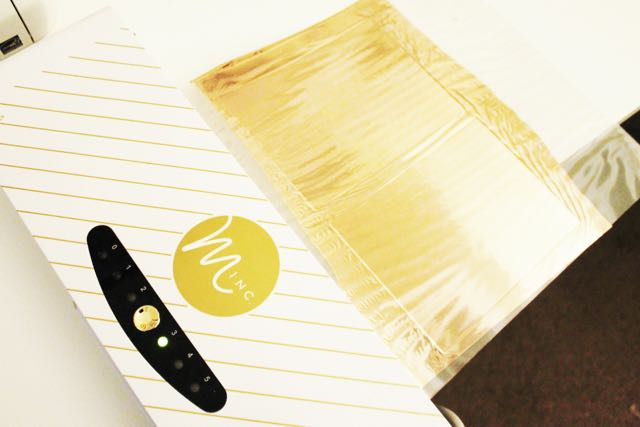 Step 2: Open a new document in your Silhouette Studio® software. Adjust your paper settings for your 5×7 toner sheets.
Step 3: Visit the Silhouette store and download a snowflake design you like. (Great news! They're having a sale on their designs till tomorrow, Dec 4th – 50% off everything!) Once you download your snowflake, place it on your document. Size it to your specifications. I sized mine to .635x.55 inches.
Step 4: Make several copies of your snowflake. Each one will require a front and a back. For my garland, I wanted about 20 snowflakes so I made 40 copies of the snowflake – 20 fronts and 20 backs. Finish by applying cut lines to the snowflakes.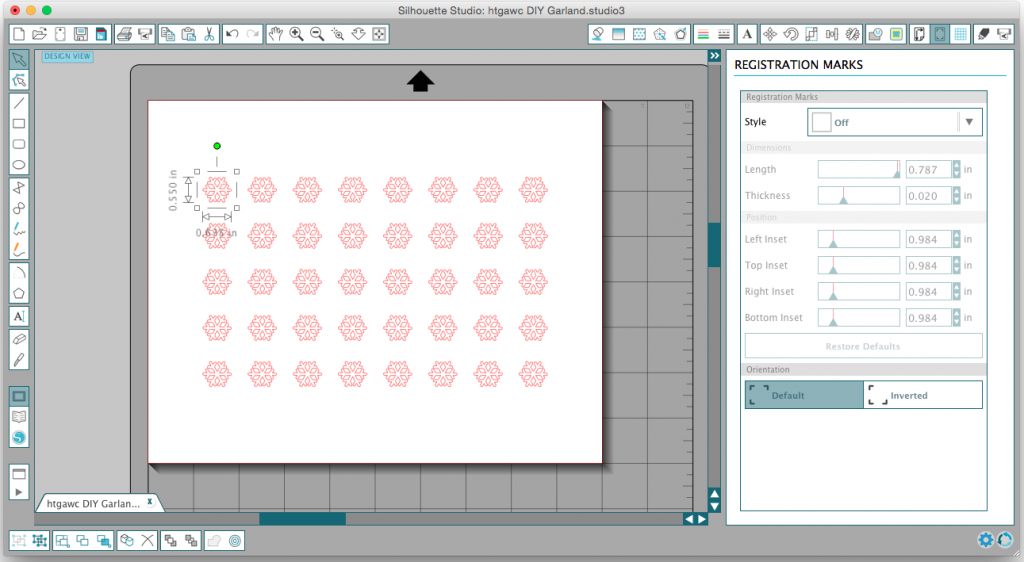 Step 5:  Place your foiled toner sheet onto your Cameo cutting mat. I used gold for the snowflakes. Send your foiled toner sheet through your Cameo with the ratchet blade setting at 5 or 6 depending on how sharp your blade is. (The toner paper is pretty thick.) Afterward, take your beautiful snowflakes and remove them from the mat.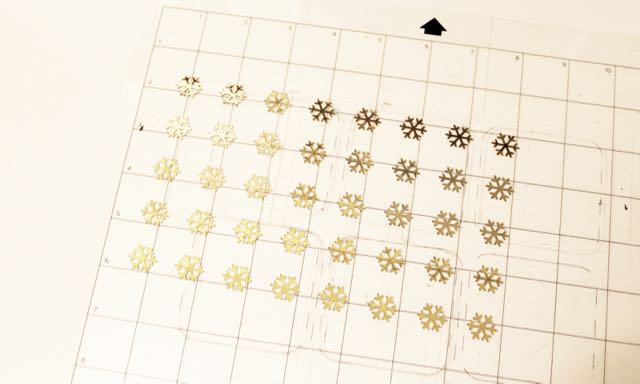 Like I said, when you make your snowflakes as small as I did, it can be a bit tedious and time-consuming to remove them from the mat. (Remember we only have an hour to get away with crafting.)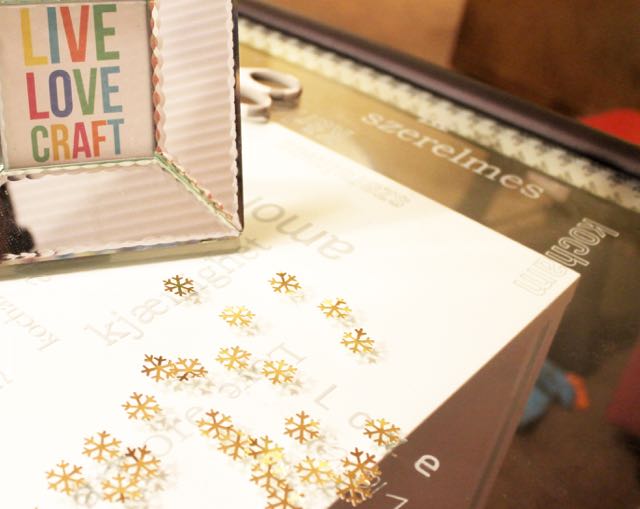 Step 6: Take your other foiled toner paper, and use your circle punch to punch out 40 small circles for the garland. Like the snowflakes, I wanted 20 circles so I had to punch 40. I used the rose gold for the circles.
Step 7: Take all of your pretty, foiled shapes and run half of your snowflakes and half of your circles through your Xyron sticker maker.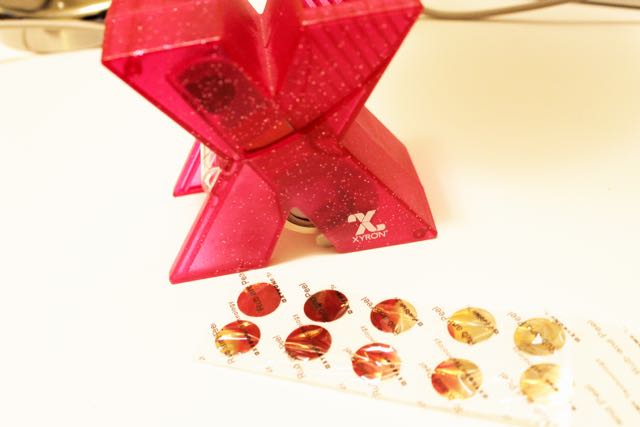 Step 8: Now comes the fun part. Take one sticky snowflake and place it on your nylon string. Sandwich the string with a non-sticky snowflake. (Line them up nicely so it looks like one single gold snowflake.) Repeat the process with a circle shape, followed by a snowflake, a circle, etc. Space each shape about an inch apart.
Step 9: Once you've used all of your shapes, cut your nylon.
Step 10: Hang your foiled snowflake garland on your tree! Yeaaa! More glitz and glam!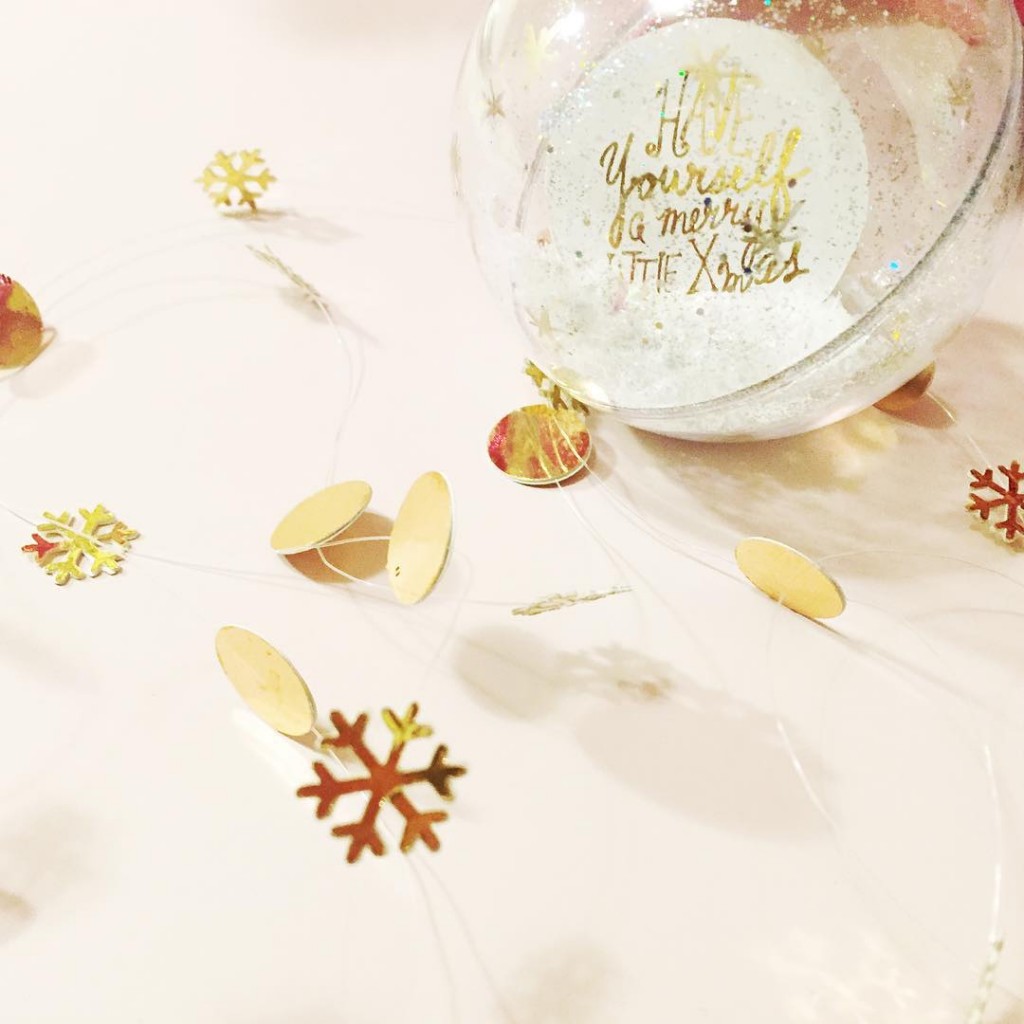 So, did you use the same tiny settings to make your gold foil garland, or did you go with something bigger? Either way, let me know. Post your photos on Instagram and hashtag it #htgawcrafting! Can't wait to see your trees!
Till tomorrow…